What did you want to be when you grew up? What did you imagine would be just the most awesome job ever? A firefighter? A doctor? A rodeo clown? Did you want to make lots of money? Help people? Travel the world?
I didn't always know what I wanted to pursue as a career. Once I realized the Peace Corps costs money, I moved on to something way more practical. I imagined I might like assisting lawyers with important cases. One semester of Business Law changed my mind real fast! Then life happened. Marriage and children kept me busy for years.
It was a labor of love, sometimes soul-filling, other times soul-sucking.
But I was always learning, always growing. And always hopeful that one day I'd find my passion – that thing I was created to do and be and love. It happened that the birth room was where that magic from childhood first reappeared for me. There is nothing else like birth, and I was hooked! I decided to pursue doula certification. Let the excitement begin!
Honestly, it was a great deal more complicated than just making a choice. If you're reading this and have ever gone after a dream, you know what I mean. Life always gets in the way, and the path can be wrought with roadblocks, obstacles of all kinds, exhaustion, and frustration. You can find yourself wanting to give up, or wondering if maybe you fell into someone else's dream.
I decided to take some time to reevaluate.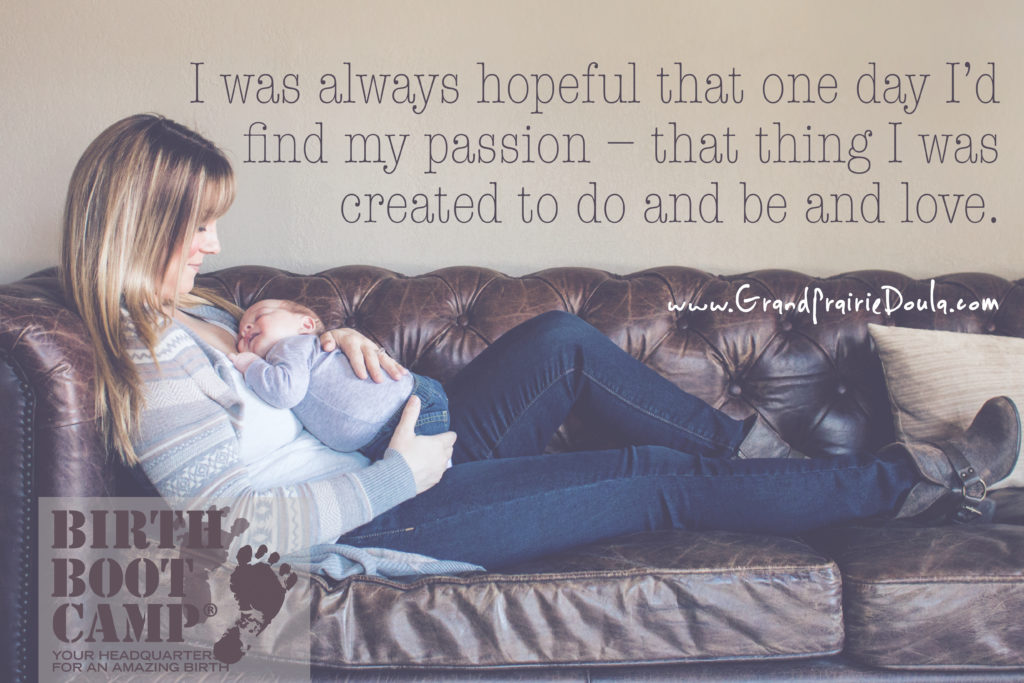 Right about this time Birth Boot Camp announced a company-wide retreat called Be Amazing. It truly was an amazing time of connecting (and reconnecting) with outstanding colleagues, soaking up wise words from guest speakers like author Patricia Harman, health coaches Shanas Harris and Katie Dudley, birth doula and childbirth educator Ebo'Nae Piggee, and doctor of chiropractic Kristen Hosaka.
The laughter and tears were such good medicine for my parched doula soul! I'm excited again, making goals for my business and my heart! I am grateful for the time I spent these last few years as a Birth Boot Camp DOULA, and I'm now looking forward to a bright future with BBC.
This is still my dream: To be a light in a difficult world, a refuge and strength to those seeking something better for their birth experience.
What is your passion? What makes your heart beat faster with excitement and wonder? Don't be surprised when you have to battle your way through disappointment, fear, and a slew of other obstacles. This just means you're doing something right! Don't give up on that childhood magic you once experienced. Seek out other dreamers like you for compassionate guidance and lasting support. Go out there and BE AMAZING!
Until next time,
Jennifer