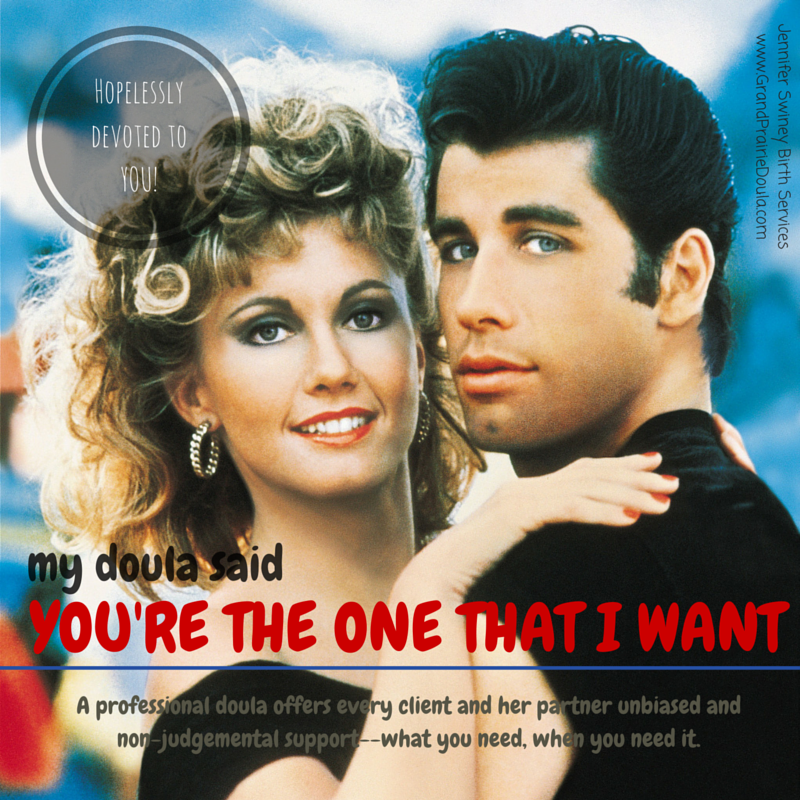 Fun quiz! Check all that apply. You can't mess this up.
Are you currently pregnant and…
crunchy?
old-fashioned?
boisterous?
feel like Frenchy?
worried?
talkative?
serious?
more like Sandy?
strong?
calm?
excited?
fierce?
melancholy?
quiet?
eloquent?
silly?
a lot like Rizzo?
can't believe how long this list is?!
If any of these words describe you, then you are a perfect client for a professional doula. YOU'RE THE ONE THAT I WANT!
A professional doula offers a pregnant woman and her partner unbiased and non-judgemental support. She is a wealth of information to her clients, and they are comforted knowing she is there when they need her. She brings a peaceful strength with her and works well with all care providers.
If you're pregnant, then YOU'RE THE ONE THAT I WANT as my client.
I'll be HOPELESSLY DEVOTED to your every birthing need.
WE can GO TOGETHER to your chosen birthing place.
I'll be your support on those long SUMMER NIGHTS…in Texas.
Ok, I'll stop! But just for fun, here's this. Call me!